Welcome! Hard Racing Events is dedicated to holding unique events that will test your endurance as well as your heart.
Train HARD Race HARD
The Divide is our "main event" — a great bike race starting and finishing in downtown Manton, Michigan. It is primarily on gravel and dirt roads. The primary length will be about 19 miles with a good selection of long winding hills and some great views. We will also offer The Divide+ at 34 miles and The Divide Pro-Elite at 50 miles. All three offer some great elevation challenges It will be on Sunday, July 30, 2023.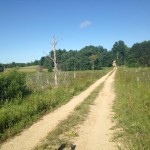 Pro-Elite Gets Rougher