The two primary people involved in our HardRacing Events are:
Jeff Harding: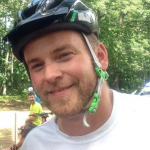 Jeff has organized events in Northern Michigan for many years. Hailing from Manton, Jeff and his wife Lisa can be seen at many local events. Jeff has several successful events including the Manton Big Truck 5K and the Cadillac Team Marathon Plus events.
Contact Jeff: jeff@hardracingevents.com
or (231) 920-1951
Don Passenger:
Don has been the director of many larger events throughout west Michigan and is involved in timing approximately 300 events each year. He was the founder of the Cougar Falcon Eagle Cross Country Meet and built that into one of the prime events in Michigan before he retired from that event. He also organizes the MetroHealth Sports Medicine Scholarship Invite and regularly works with race directors on improving their events. For several years he has timed different events with experience including enduro, mountain biking and cyclocross.
Contact Don: don@michianatiming.com
or (616) 821-3156
Jeff and Don often think while riding together and several years ago they hatched the idea for the race that will become "The Divide". They also have several other great events in their hopper, so stay tuned. Meanwhile please enjoy The Divide, launching in July of 2015 with the inaugural event.
HardRacing Events is wholly held by MichianaTiming.com LLC.